South Florida PGA Junior Tour Championship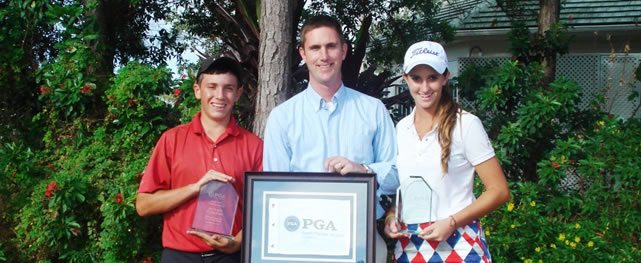 Anthony Gabriele of Wellington and Claudia DeAntonio of Weston were the overall winners Sunday in the South Florida PGA's 11th annual Junior Tour Championship at the Santa Lucia River Club.
Gabriele, a home schooled 16-year-old, led the boys with 78-72—150, scoring three birdies in each round. It was his second big victory of the year. He also won the SFPGA Junior Championship in June at Boca Grove Plantation, qualifying for the Junior PGA Championship in Fort Wayne, Ind. In August. "I didn't play so well up there," Gabriele said, "but it was a great experience."
DeAntonio, who will turn 17 on Friday, was the low scorer among the girls with 73-80—153. One of several players from Venezuela, she moved to the U.S. three years ago. A junior at American Heritage School-Plantation, DeAntonio made four birdies Saturday and two Sunday but needed a par on the final hole to win by a shot.
DeAntonio and Alejandra Merchan, a close friend from Weston, were in the same threesome. "We were tied going to the last hole," the par-4 18th, DeAntonio said. "She made bogey and I made a five footer for par." Merchan took three to reach the green then missed a 15-foot par putt, scoring 76-78—154.
The tournament field was limited to 84 players, including 63 boys and 21 girls, all chosen from the Player of the Year point standings. As this was the last of 17 tournaments this year, several other awards were presented.
Players of the Year – Mike Anderson, Parkland, boys 14-18; Alberto Martinez, Weston, boys 12-13; DeAntonio, girls 14-18; and Valeria Sofia, Hallendale Beach, girls 12-13.
Lowest Stroke Average (counting five best tournament totals) – Anderson, boys 14-18, 71; Martinez, boys 12-13, 71; DeAntonio, girls 14-18, 74.6; Sofia, girls 12-13, 76.7.
Honda Classic Most Improved Players – Jeremy Chaiser, Pembroke Pines, and Anastasia Talalenko, Naples.
Ed Ficker Sportsmanship – Robert Butler, Estero, and Radi Sauro, Lake Worth.
Prize winners Sunday:
Boys Overall
Anthony Gabriele, Wellington 78-72—150
Boys 16-18, 6,612 yards
Mike Anderson, Parkland 80-73—153
Connor O'Rourke, Jupiter 77-79—156
Anthony Myers, Cape Coral 73-84—157
Boys 14-15, 6,612 yards
Josh August, Boynton Beach 75-77—152
Charlie Kennerly, Jupiter 79-75—154
Jake Holt, Jupiter 77-77—154
Boys 12-13, 5,839 yards
Alberto Martinez, Weston 73-70—143
Clay Gibbs, Wellington 76-79—155
Jordan Laklak, Miami 81-76—156
Girls Overall
Claudia DeAntonio, Weston 73-80—153
Girls 16-18, 5,839 yards
Jamie Freedman, Miami 82-75—157
Andreina Merchan, Weston 80-79—159
Anastasia Talalenko, Naples 77-83—160
Girls 14-15, 5,839 yards
Alejandra Merchan, Weston 76-78—154
Mary Janiga, Wellington 81-82—163
Kaely Krayeski, Wellington 87-80—167
Girls 12-13, 5,393 yards
Sabrina Fonda, Wellington 82-83—165
Valeria Sofia, Hallandale Beach 85-82—167
Julia Matzat, Parkland 85-89—174